Win the Milano Hanging Chair!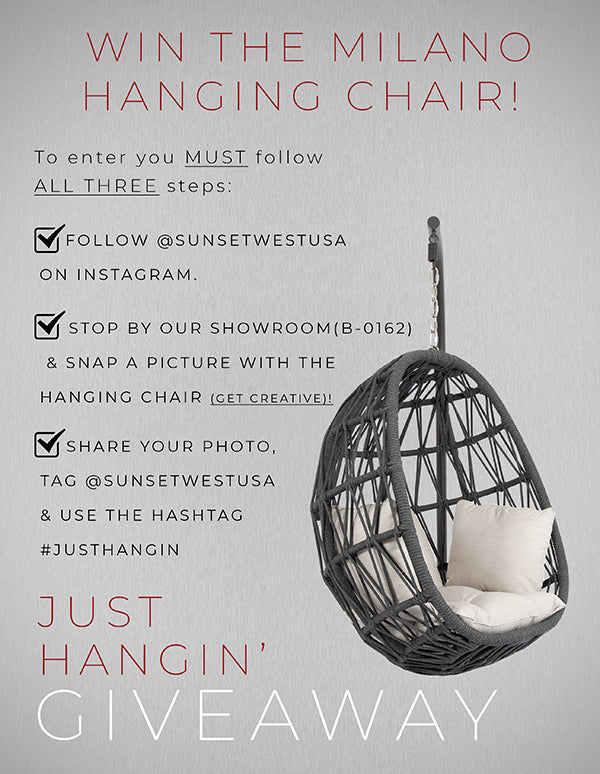 Sunset West announces the return of the "#JustHangin" social media contest!
Sunset West is giving away a Milano Hanging Chair to one lucky Las Vegas Market attendee. Everyone at Las Vegas Market is welcome to enter, no purchase necessary. To participate, guests can simply stop by the Sunset West Showroom to snap a photo in the Milano Chair, and upload to Instagram using the hashtag #JustHangin' Must follow and tag @sunsetwestusa.
"The social media contest gives us an opportunity to engage with market attendees in a fun and interactive way, and gives them the chance to explore and share our new offerings at market," says Aliena Klaus, Brand Manager. "We hope to connect with more attendees via our social media platforms, and encourage others to experience first-hand the comfort and quality of our product."
The Milano Collection by Sunset West steps outside of the traditional outdoor furniture design boundaries and delivers a winning combination of whimsy and refinement. Full of juxtapositions, the Milano's generous scale is visually lightened with its striated rope design, and distinctive angles are punctuated with surprising organic curves.
For more information about Sunset West and creative curation outdoors, visit www.SunsetWestUSA.com.
About Sunset West:
Founded in 2004, Sunset West is committed to bringing high-end outdoor furnishings to the casual market with comfort, style and durability in mind. With their distinctive collections, Sunset West designs products for a harmonious transition from indoor to outdoor spaces, providing elevated looks that are an extension of the home. It is their mission to bring superb quality, comfort, design, and value into the outdoor living space.