Grand Opening of New & Expanded Showroom at Las Vegas Market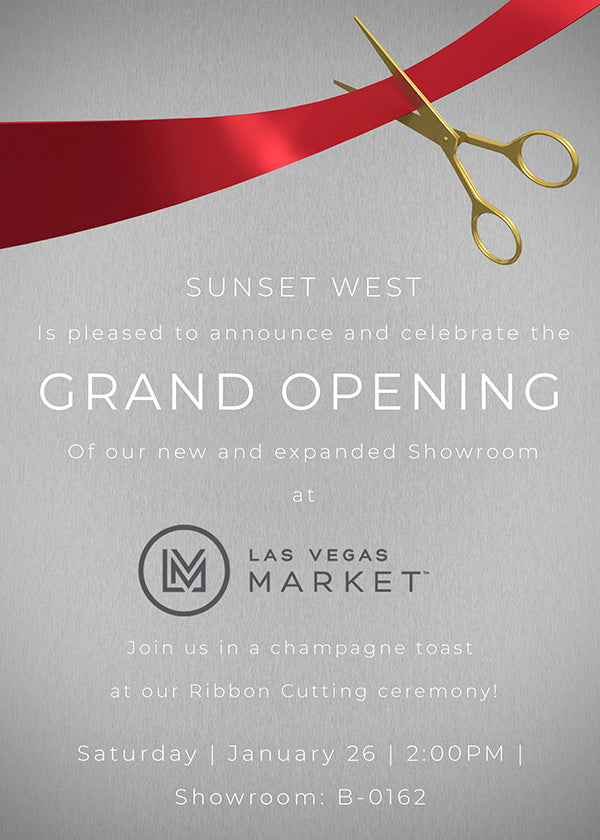 Sunset West Is pleased to announce and celebrate the grand opening of our new and expanded showroom at Las Vegas market. We invite you to join us in a champagne toast at our Ribbon Cutting ceremony which will take place in our new space B-0162, Sunday January 26th, 2020 at 2:00 PM.
Sunset West will be highlighting six (6) new 2020 Collections plus new additions to our Bazaar Line, which features unique, eclectic and complementary offerings in seating, occasional tables, fire tables and more.
In addition, we are pleased to introduce our new textile accessory goods which include Poufs, Fabric Ottomans as well as a new Designer pillow pack program.
Lastly, and best of all, Sunset West will be offering a chance to win a FREE Milano Hanging Chair!
Come to the showroom for details and let yourself be inspired.
Please visit Sunset West during Las Vegas Market from Sunday January 26th through Thursday January 30th.  Market starts every day at 8:00 AM and don't forget to ask for our world-famous Mai Tai's!