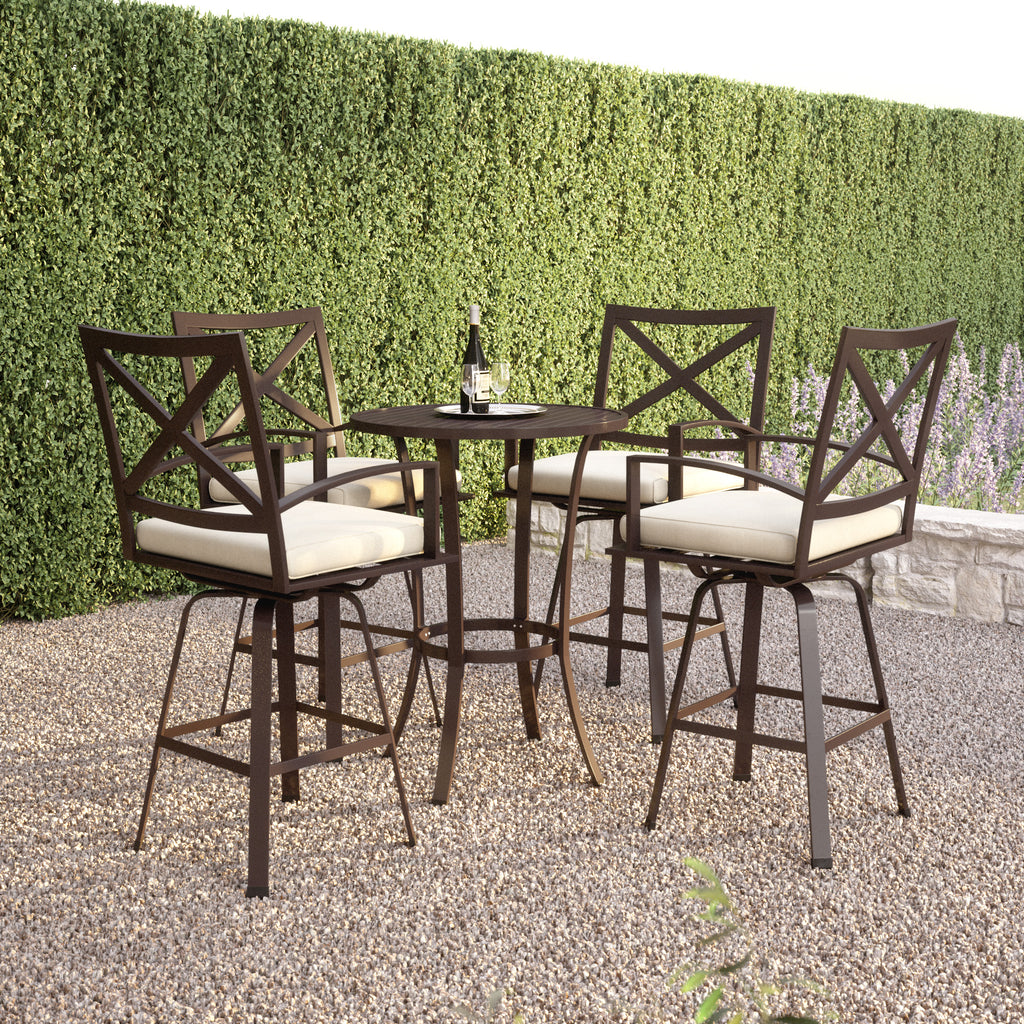 The outdoor dining season is upon us, if not already here for most of us. With temperatures on the rise and long sunny days ahead, It's time to bring the grill out of winter hibernation and embrace the summer season! In celebration of this wonderful changing of the seasons, we are prepping by finding new grilling recipes to try and embracing our love of dining outdoors. Read along for inspiration!
Accommodations For All Sizes.
Whether you are planning on having a quiet night or the whole family over to grill out, the dining options are endless. From the Coastal Teak 79"-118" Extension Table (linked here), to the newly introduced round dining tables (Which can be found here),or just the two-person Bistro table option (The Provence Bistro table is linked, here) - there is no group size that cannot be accommodated for.
Pictured: The Coastal Teak 94" Trestle Dining Table with Havana Dining Chairs.
Bar Height Dining Is In.
Try something new this season. Easily add an additional level of comfort and casualness to your existing outdoor living space with a pub table and barstools. Also perfect for smaller spaces, bar height dining is a great way to account for unexpected guests or when spending the evening watching a game outdoors on the TV. Start by choosing a pub table here, then pick the stools and/or chairs to coordinate with it.
Pictured: The La Jolla Pub Table with coordinating Bar Height Chairs.
Go For A New Grilling Recipe.
Our friends over at BBQ Guys know their stuff when it comes to cooking out on the grill. One recipe on our radar this summer is the stuffed sweet mini pepper appetizer from their blog, linked here! Described as "hot, juicy and sweet" - it sounds like the perfect easy appetizer to kick off the grilling season with. With a 10 minute prep time, and 1 hour and 20 minute cook time - this is the perfect app to dish up while chatting with friends and family, enjoying the outdoors!
What you'll need:
For the Stuffing:
1 lb ground chuck
4 bacon strips, thick-cut
1 yellow onion
12 cups water
2 cups brown rice
1 red bell pepper
1 yellow bell pepper
1–2 pinches coarse salt
1–2 pinches black pepper
½ tsp white pepper
2 tsp Worcestershire sauce
4 cloves minced garlic, fresh
¼ bunch parsley
8 oz goat cheese, crumbled
Directions:
Bring a large pot of water to boil, using about 6 cups water per 1 cup rice. Under running water, rinse the rice in a colander to remove excess starch; this will keep the end result from coming out thicker and gloopier than you'd want to stuff those peppers.
Gently slip the rice into the boiling water, then lower the temperature as necessary to prevent it flowing over. You'll want the rice to maintain a steady boil. Boil, uncovered, for about half an hour.
As the water boils, bisect 20 mini peppers long ways and scoop out thepiths and seeds — if you happen to have one laying around, a serrated grapefruit spoon really speeds this task right up.
Drain off the remaining water, then return the rice to the pot. Cover the pot and let the rice rest, off the heat, for 10 minutes before fluffing it. Set the rice aside — but don't you worry. We're about to make great use of it.
Bring a large sauté pan to medium heat. Introduce the ground chuck and bacon to that pan, then brown them until nearly cooked through. Drain the rendered fat and excess oil, then return the pan to the burner.
Add the onion and the regular bell peppers, then continue sautéing until caramelized.
Drop the fire to medium-low heat. Add the salt, black and white pepper, Worcestershire sauce, minced garlic, cooked brown rice, and chopped parsley. Continue cooking for another 2–3 minutes; allow the flavors to blend and meld together.
Remove from the fire and allow mixture to cool for 10 minutes before transferring it to the bowl of a food processor. Lightly pulse everything a few times until it resembles a very coarse meal. This will help everything pack well and stay together when stuffing.
Pour everything into a large mixing bowl, then begin folding in crumbled goat cheese until well-incorporated and dispersed throughout the stuffing.
If you are preparing the peppers immediately, this is a great time to preheat your grill. Set it up for direct medium-high heat.Now, if you'd rather finish preparing them in the next two days — any longer than that is just asking for poor results — you can now wrap the pan tightly with plastic wrap and refrigerate. Simply remove the pan from the refrigerator, allowing it to warm upabout 20 minutes before grilling.
Use a tablespoon to generously stuff each pepper. And we do mean generously. Try to over-stuff these bad boys until the stuffing peeks out roughly a quarter-inch over the cut edge of the pepper.
Grill the peppers for a few minutes, stuffed side up. You're looking for char marks to appear on the bottom of the peppers. Remove those tasty stuffed peppers, plate them on a large platter, and serve immediately!


Looking for more of a main dish? Try the grilled shrimp po-boy with remoulade sauce by Chef Tony Matassa of ShoppersChoice.com. 
This recipe requires 40 minutes of prepping and 5 minutes of cooking.
What you'll need:
2 lbs colossal shrimp
French loaf bread (enough for three 12-inch po-boys)
Butter lettuce for dressing sandwich
3 each thick sliced tomato for dressing sandwich
Shrimp Marinade:
1/2 cup olive oil
1 Tbsp Worcestershire sauce
1 Tbsp lemon juice
1 tsp ground coriander
1/4 tsp cayenne pepper
1 tsp coarse salt
1 tsp black pepper
2 Tbsp creole seasoning blend
2 each minced shallots
Remoulade Sauce: (Makes 2 Cups)
1 1/4 cup mayonnaise
1 Tbsp full grain mustard
1 Tbsp dijon mustard
1 Tbsp prepared horseradish, rinsed & drained
1 Tbsp cornichon
2 Tbsp minced parsley
1 each minced shallots
2 tsp lemon juice
2 tsp Worcestershire sauce
1 tsp hot sauce
1 Tbsp creole seasoning blend
1/4 tsp cayenne pepper
1/2 tsp coarse salt
1 Tbsp coriander
1 Tbsp drained & chopped capers
1/2 tsp granulated sugar
Optional: You can use store-bought creole seasoning. If the blend you use has salt in it already, leave out the additional salt in the recipe.
Creole Seasoning Blend: (Makes Approximately 1 Cup)
3 Tbsp roasted garlic powder
2 Tbsp onion powder
3 Tbsp dry basil
2 Tbsp dry thyme
3 Tbsp dry oregano
2 tsp cayenne pepper
3 Tbsp paprika
2 Tbsp dry rubbed sage
1 Tbsp dry lemon peel
Directions:
Peel and de-vein 2 lbs of colossal shrimp, set aside in fridge while you mix up the marinade.
In a large mixing bowl, mix together ingredients for marinade.
Add shrimp to marinade and toss to coat well.
Set in fridge and allow them to marinade 30 minutes to an hour, while you mix up the remoulade sauce.
In a mixing bowl, add mayonnaise, followed by Worcestershire, lemon juice, hot sauce and Dijon mustard. Whisk everything together well.
Add remaining ingredients to remoulade and whisk everything together.
Transfer remoulade sauce to serving dish and set in fridge until ready to serve.
Remove shrimp from refrigerator and preheat grill to medium heat.
Place shrimp on preheated grill and allow them to cook about 2 minutes per side. The shrimp are done cooking when they have turned opaque.
Remove shrimp and lightly tent with foil.
Halve French bread and brush on olive oil. Grill for a few seconds to toast bread.
Assemble Po-boy with homemade remoulade sauce, fresh sliced tomatoes, butter lettuce, and grilled shrimp.
Slice 12-inch Po-boys in half, serve, and enjoy!
Read more about this recipe and watch the corresponding video from BBQ Guys, here!
We are looking forward to lots more of this throughout the new season. So stay tuned for more summer recipes and dining inspiration!