Backyard Bliss – Helping Customers Turn Outdoor Areas into Beautiful Spaces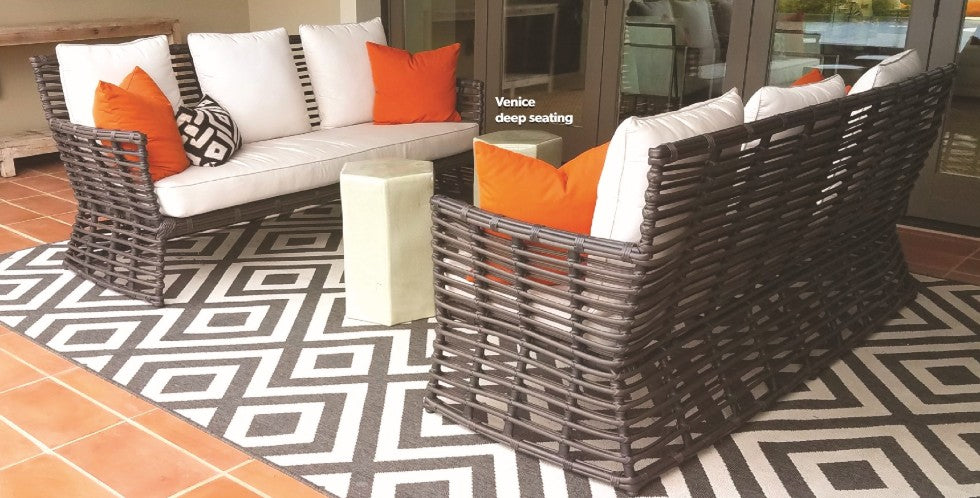 Sunset West was featured in the Patio & Hearth Products Report in the November / December 2018 issue.
by Cherise Forno, Patio & Hearth
Sunset West has developed a broad line of patio furniture that appeals to a diverse consumer base looking to elevate their outdoor spaces with high-quality, fashion-forward pieces.
"Each collection that we bring out appeals to a different customer," says Wes Stewart, co-founder. "We do a lot of things well in a manner to allow people to get a custom solution. People are really starting to see us for this ability."
Founded in 2004 as a distribution company reselling patio furniture under a different name, Sunset West has grown into a well-respected industry leader. After a few years, Sunset West began importing its own products and designs, and has continued to expand and fine tune the company during the last decade. "What started as a two-man operation has grown to 30 employees on-site," Stewart says.
Sunset West has also taken ownership of various aspects of its furniture, including the formation of a sewing operation, and expanding its experienced dealer network throughout the United States. "We've been very successful this year in adding dealers in the Midwest and East Coast," Stewart says. "We've done about 98 per-cent of the sewing in-house this year."
Sunset West has also focused on steady growth, allowing the company to maintain a high level of quality craftsmanship and customer service. "We try to bring in two collections a year," Stewart says.
"We don't want to grow too big, too fast."
In an effort to stay a step ahead of ever-changing design trends, Sunset West released the Milano collection this year, which features an acrylic rope material for a finished look that is eye-catching and sophisticated. Pieces such as a club chair, ottoman, and cushionless chaise are crafted with comfort and performance in mind. Stewart says the look, feel, and utility of this premium all-weather material has been very popular. "People have thought these are really interesting and exciting," he says. "It's really starting to catch on this year."
Other flagship collections include the Coronado, which captures a casual yet upscale aesthetic with its driftwood resin wicker. The pieces in this collection showcase the company's commitment to comfort, quality, and timeless style. "Our Coronado, Laguna, and Provence are all doing well," he says. "I think the style is there, the comfort is there, and the value is there."
Another recent collection that pairs exquisite design with unparalleled value is the Laguna which features sleek lines and a driftwood finish. This pairing of aluminum and driftwood make these pieces ideal for any location, from modern homes to backyard decks. A luxurious design is achieved with Sunset West's Provence collection, which evokes the elegance of Rome coupled with the comfort of high-end furniture featuring sleek, clean lines in its dining and seating products.
Stewart emphasizes that Sunset West is committed to offering products that deliver true value with the highest level of quality. The company has exclusively used Sunbrella's performance fabric since its inception, but Sunset West also allows customers to supply their own fabric to create a truly customized piece of furniture. The furniture's frames are made in Asia, and cushions are produced domestically, which Stewart notes is a large advantage. "Because we make them domestically, we can get custom cushions to customers in 4-6 weeks," he says.
Collections from Sunset West stand apart from other outdoor furniture sets because they were designed to complement each other, all while offering distinct styles for different customers and locations. Stewart explains that they are craft-ed so that customers can take several pieces from one collection such as the Laguna and add a piece from another collection, such as a Majorca club chair, which is woven in a textured resin wicker, to create a one-of-a-kind furniture design.
"One of the things I really think has been catching on is mixing and matching items together," Stewart says. "Different textures and pat-terns can go together for a complete, finished look." While purchasing an entire set still dominates the market, this ability to pair pieces from different collections provides dealers and customers limitless options to take their patio furniture collection and outdoor areas to the next level. "To differentiate ourselves, we have different collections that work together to create a lot more visual interest for a more custom solution for customers," Stewart says. "We also have a very keen, clean scale, and the designs are on point for each look we are trying to achieve. Dealers have opportunities to offer curated packages to make a backyard have a better, higher-end look."
This innovative mindset extends to selecting color schemes, patterns, and materials that are trending or will be popular in the near future. Stewart notes that Sunset West strives to stay ahead of industry trends. He says driftwood (included in the Coronado and Laguna collections) has been very popular for the last few years. For the future, he notices the colors in high demand shifting to classic white and gray tones. "I see us stepping into gray/slate gray color trends in the next year or two," Stewart says. "I think white is going to be a very important color in the next two to three years."
The inventive, thriving company wants to continue to look ahead and be on the forefront of innovation. Stewart explains that Sunset West wants to avoid being behind any style, fabric, and color trends. "If you are on-trend or slightly ahead of trends, you can create more interesting showrooms," he says. "I think we're going to get sharper at staying a step ahead."
To download the full article, click here.